News & Press
September 21, 2022 Re: Broken Link Update Brothers and Sisters, In yesterday's general u...
May 24, 2022 Re: Survey and Contract Proposals Brothers and Sisters, The survey in January p...
Local 986 Airline Division
---
Finest Airline Division
Teamsters Local 986 has the finest Airline Division members in the International Brotherhood of Teamsters. The Local's representation covers many classifications of work including pilots, mechanics, passenger service, operations, reservations and cargo.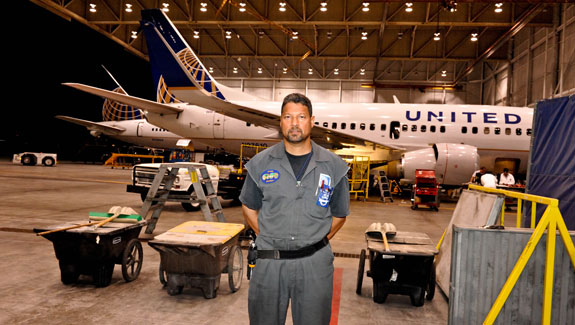 Teamsters Airline Division
We represent more than 75,000 airline employees including mechanics, customer service agents, reservationists, simulator technicians, ramp agents, stock clerks, dispatch personnel, flight attendants and pilots.
read more
Teamsters Airline Division Takes Safety Seriously
---
Because safety is a primary concern for our members, securing and increasing safety standards throughout the airline industry is a focus of the Teamsters Airline Division.
The Teamsters Airline Division has taken a strong position on maintenance and safety issues. By standing up and speaking out against the use of low-cost, substandard and poorly-regulated maintenance facilities, the Airline Division is recognized as one of the leading experts on Capitol Hill for ensuring that passenger aircrafts are properly maintained by facilities that only use FAA-licensed mechanics and technicians. It is the goal of the Airline Division to ensure that maintenance facilities that service U.S. aircrafts are held to the same high standards for security and skills that airline facilities in this country must maintain. To help propel our fight against outsourcing, the Teamsters Airline Division, in conjunction with the Teamsters Aviation Mechanics Coalition, has devised an Outsourcing Defect Report to document and catalogue faulty repairs made by foreign MRO stations. This report can be filled out by both members and non-members, and its data is reviewed by qualified members and stored in a databank accessible by Teamster representatives when needed.